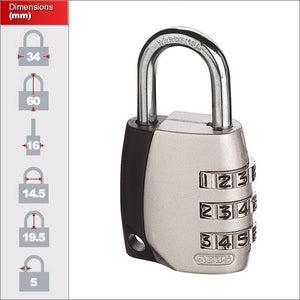 The ABUS 30mm traveller combination padlocks offer a hardened shackle with strong die-cast metal body. Each has a small accessory loop in the body allowing you to fix it permanently to a locker or bag. The 30mm  have a 3 digit combination.
Uses & Applications:
The 30mm version are a higher security option for lockers and large bags.
Resetting The Combination:


1. Open the padlock using the default code (all zeros)
2. Twist the shackle around 90 or 180 degrees (depends on model)
3. Push the shackle back down into the body
4. Whilst pushing the shackle down, change the combination
5. Release pressure from the shackle and rotate back to its normal position
6. Close the padlock and scramble the code.