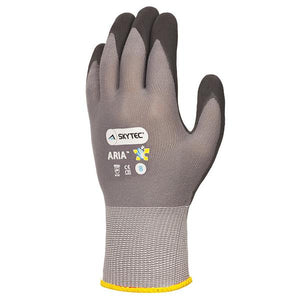 Skytec Aria Nitrile Foam Multi-Functional Gloves
In recent tests, the Skytec Aria achieved a result of 25,000 abrasive cycles (EN388) making it a leader in its class for resistance to abrasion (only 8,000 cycles are required to achieve the maximum level of abrasion resistance under EN388).
Features:
Level 4 abrasion resistance
Superior comfort and dexterity
Anatomically engineered for maximum fit
Excellent grip in both wet and dry environments
An oeko-tex certified product
Seamless nylon/spandex liner
Patented nitrile foam palm coating enhances protection
Sanitized antimicrobial finish provides extra freshness
Typical Industries: Automotive, Logistics, Maintenance, Manufacturing, Oil and gas, Utilities
Applications: Assembly, Goods Handling, Light Fabrication, Quality Inspection, Warehousing
Specifications:
Liner: Nylon
Coating: Nitrile Foam
Colour: Grey/Black
EN388 - Mechanical Hazards
Skytec gloves from Globus deliver advanced hand protection for users in many different industries. Skytec is confident that their range will fulfil all your safety obligations whilst delivering exceptional value for money and gaining widespread user acceptance. This is underpinned by the positive effect the range can have on worker productivity, environmental and waste costs, insurance premiums, expensive downtime and 'management' time.