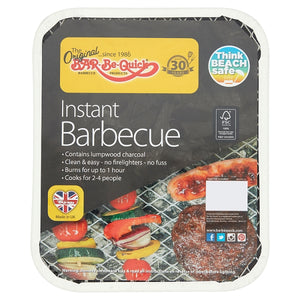 Details
Bar-Be-Quick Instant Barbecue
Features
Think beach safe
Contains lumpwood charcoal
Clean & easy, no firelighters and fuss
Burns for up to 1 hour
Cooks 2-4 people
Brand
Bar-Be-Quick
Manufacturer Address
Rectella International Limited.,
Bancroft,
Burnley,
Lancashire,
BB10 2TP.
Country of Origin
United Kingdom
Safety Warning
Warning: Remove cardboard tray & read all instructions on reverse of label before lighting. WARNING CARBON MONOXIDE HAZARD Burning charcoal inside can kill you. It gives off carbon monoxide, which has no odour. NEVER burn charcoal in enclosed spaces e.g. homes, vehicles or tents WARNINGS This product generates extreme heat therefore great care must be taken with using, handling and with safe disposal. Never use indoors or in confined spaces (for example tents) or as a source of heat. Carbon Monoxide poisoning can result from burning charcoal in areas with poor ventilation, even when extinguished. Do not use in prohibited areas or areas which prohibit open fires. Never use lighting fluid or other flammable liquids with this barbecue for lighting or relighting. Never place your barbecue on, or near, anything liable to be damaged by heat or flare up or from hot fat which may spit during cooking. Due to the potential risks involved with barbecuing, it is recommended that an adult not consuming alcohol is in control of the barbecue and that first aid and other emergency provisions such as fire extinguishers, are at hand. Always keep children and pets away from the barbecue area. Never leave a lit barbecue unattended. Never handle the barbecue while in use as it soon becomes very hot. To prevent food poisoning, always ensure that food is completely defrosted before cooking commences and that it is always cooked thoroughly. Care must be taken to avoid moving or tipping the barbecue when turning food, as it may be stuck to the grill. Never refill. This barbecue is single use only. After cooking, extinguish completely and allow to go cold before handling or moving. Remember the area beneath and around your instant barbecue will become extremely hot and will remain so for some time after use. Do not dispose of until completely extinguished and cold (using for example water) and always remember to dispose of your instant barbecue carefully and responsibly. This product must be used only in accordance with the instructions and warnings above. Liability cannot be accepted where fault or damage is caused by misuse or irresponsible use of the product. This does not affect your statutory rights.
Disclaimer
Whilst we take care to ensure the product information displayed on our website is correct, our products and their associated recipes are subject to change. Therefore, you should always check product labels and not entirely rely on the details listed on this page. Customer quotas may apply.