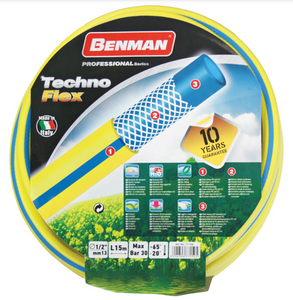 Superior quality hose with 3 layers of heavy duty protection to ensure durability and usability. Made in Italy to EU specifications, this Technoflex garden hose uses anti-kink technology to improve the flow of water at every point with heavier duty layers to provide superior puncture and cracking protection. Incorporating simple stich technology. Made from quality materials and with the Beman quality guarantee.
Diameter - 0.5 inch; Lenght - 25m; Max Bar: 30 Bar
This hose is REACH compliant with SHYC free materials to improve water quality. Comes with Benman 10 Year guarantee.
Benman tools are German made professional grade tools built with quality and durability in mind. Benman Hand tools and Accessories provide class leading performance for the most demanding jobs with cutting edge technology to the fore. Benman tools complies with statutory EU standards. Beman tools come with a lifetime limited manufacturers warranty (subject to correct usage).