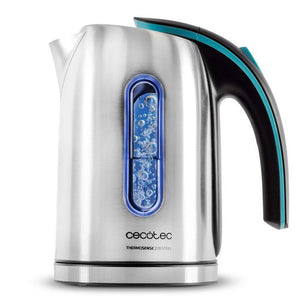 Heats up to 8 cups of 200 ml simultaneously. The ThermoSense 270 Steel kettle features 1.7 liters of capacity and 2200 W of power to save you time. In a few moments, you will have your infusions or the water necessary for preparing food ready.

Allows safe and healthy handling. The body is made of high quality 18/10 stainless steel. The water level indicator window is made of food-grade plastic, 100% free of BPA and any other toxins.

It boils quickly thanks to its 2200 W of power. Heating water has never been so practical. In a few minutes and at any time of the day you will have the drinks you want ready.

The filter is removable to facilitate cleaning, you can have your kettle ready whenever you need it. It also incorporates a protection system against dry boiling and overheating. If it runs out of water or gets too hot, it automatically shuts off so you don't have to worry about a thing.

Includes advanced technology for cordless use. You can heat the water in the kitchen and serve it in the room you want thanks to its independent base.

Adjust its position when using it by rotating it 360º. You can also separate the base of the jar to move it and serve in the most comfortable way. When you go to put it away, wrap its cable around the base so that it takes up less space.

It is the example of maximum comfort. You can control the water level at all times through its window with indicator. You will not pour a drop on the counter with its drip spout. And so you can always enjoy safe use, it features a cool-touch handle.

ThermoSense 270 Steel Kettle Features:
- Exclusive design kettle with 1.7 liter capacity.
- Made of high quality 18/10 stainless steel AISI 304. Ideal for food use, as it does not transmit odors or flavors.
- High resistance to corrosion and totally free of BPA and other toxins.
- 2200 W of power and fast boiling zone.
- Includes removable and washable limescale filter to avoid bad flavors.
- Base with 360º rotation that allows both right- and left-handed use.
- Container without cables with independent base to move it wherever you want.
- Efficient system: easy-to-clean heating plate with the resistance hidden and integrated in the base.
- Can be turned off manually.
- Ergonomic cold touch handle for a more comfortable and safe use.
- It incorporates a window with a water level indicator.
- Wide filling mouth with hinged lid for easy use and cleaning.
- Non-drip nozzle that allows water to be poured without spilling a drop.
- Luminous indicator of operation.
- Double protection system: automatic shutdown against dry running and against overheating.
- Child safety and non-slip base with compartment for the cable.

Technical characteristics of the ThermoSense 270 Steel kettle:
- Voltage: 230-50 / 60 Hz
- Power: 2200 W
- Capacity: 1.7 liters
- Material: stainless steel

Content:
- Kettle.
- Instruction book.
- Electric base.