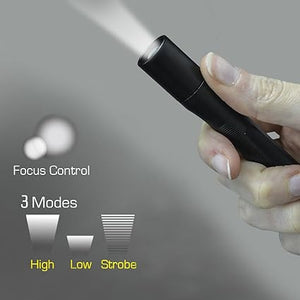 This compact lightweight torch features a 100 lumen output LED with three operating modes of High, Low & Strobe. The focus control allows the light to be adjusted from a tight spot beam to a flood light to suit the job in hand.
The anodised aluminium body is lightweight and durable and the torch is water and dust proof to IP54.
This style of torch is often favoured by service engineers, car mechanics and by the electrical, gas and water industries where information such as meter readings need to be taken in restricted areas.
The pen style pocket clip makes it easy to keep in your pocket so that it is always at hand and ready for use.
Supplied complete with two AAA cell alkaline batteries.