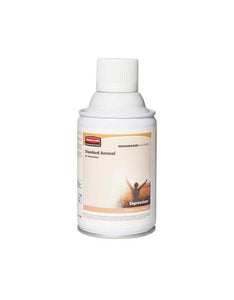 - Rubbermaid Microburst 3000 243ml LED & LCD Aerosol Air Freshener Dispenser Refill Expressions 243ml
Rubbermaid Commercial Refill for Microburst 3000 Automatic Odor Control System. 3000 sprays Impressions per refill. Contains 63% less VOCs per spray than a standard aerosol. For use with Microburst 3000 automatic air freshener system. Refill actuator distributes the industry's finest mist for longer lasting fragrance patrons will notice. Made in the USA.
Innovative fragrances create an environment that reinforces the fact that the washroom is clean and safe to use.
Long lasting fragrance intensity that washroom users notice and appreciate.
Microburst Refill (243 ml aerosol)