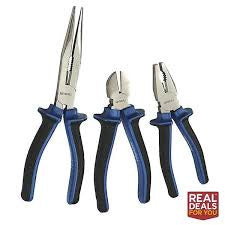 3 Piece Faithfull Pliers Set with the most popular selling pliers for everyday use.
Manufactured from chrome vanadium steel and fitted with soft grip, non-slip handles for safety and comfort.
These pliers meet tough GS standards and are suitable for both the trade and home user.
Contents:
1 x FAIPLC7 Combination Pliers, designed to grip and cut. The front section of the serrated jaws are ideal for gripping flat surfaces and the serrated sections match the profiles of rods, pipes and tubing. The induction hardened jaws are suitable for cutting a wide range of materials including medium and medium-hard wire.
1 x FAIPLDC6 Diagonal Cutting Pliers, for cutting medium to medium-hard wire close to the flat surface. The tapered head profile is ideal for accessing confined spaces. Induction hardened jaws and cutting edges are individually processed for maximum performance.
1 x FAIPLLN612 Long Nose Pliers, with serrated jaws to maximise grip and tapered to a fine end for accessing and the manoeuvre of small objects in confined spaces.