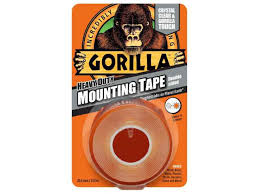 For The Toughest Jobs on Planet Earth. Gorilla Heavy Duty Double Sided Mounting Tape provides a quick and easy solution to mount and repair, where traditional fasteners and adhesives cannot. This industrial strength tape is Double-sided and grips to both smooth and rough surfaces, and can be used indoors and outdoors delivering an instant and weatherproof bond. Gorilla HD Mounting tape is unique in being Crystal Clear which means no unsightly glue or tape lines, and Gorilla HD Mounting Tape can be used on glass and mirrors for a Crystal Clear effect. Bonds to Wood, Glass, Plastic, Brick, Ceramic, Stone and much more.
Features and Benefits:
Double Sided Heavy Duty Mounting Tape
Crystal Clear & Gorilla Tough For Indoor & Outdoor use Grips Rough and Smooth surfaces.
Delivering an instant weatherproof bond.
Bonds permanently to Wood, Glass, Metal, Plastic, Brick, Ceramic, Stone and much more.