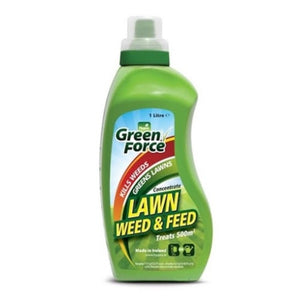 Greenforce Lawn Weed & Feed, an all in one liquid, kills the weeds in the lawn while feeding the grass.
This new product will help create a lush green weed free lawn in no time. Using the measuring cap provided, mix 50ml of product with 2.5L water in a sprayer (or 5L water if using a watering can) and apply to the lawn with even coverage.
Use on a calm dry day from April to September when the soil is moist for best results.
Contains: Nitrogen N total 4.6%, Ureic Nitrogen 4.6%. Contains Mecoprop-P and Dicamba as herbicides.