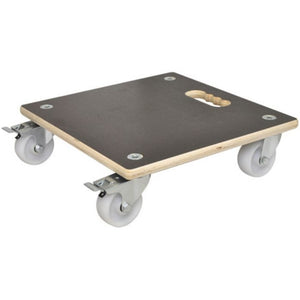 Indoor/Outdoor-Multi Roller Maxi Grip Square 380mm
Brand: Wagner 
PLANT TROLLEY: The plant trolley is made of solid, FSC-certified plywood with a non-slip surface & has 4 heavy-duty transport equipment castors, of which 2 have breaks. It allows for easy and back-friendly moving of heavy flower containers.

INDOOR & OUTDOOR: The square flower trolley is suitable for indoor & outdoor use. It protects robust floors from scratches, dents and pressure marks and waterlogging, dirt and soil frost under the container.

QUALITY: The premium plant trolley is responsibly manufactured according to ecological standards. It allows moving even the heaviest potted plants, and makes cleaning and rearranging a breeze.

DESIGN: Practical and nice to look at – WAGNER plant trolleys are brand-name products. They are constantly tested for quality, safety and longevity.

WAGNER: Flower skateboard, plant cart, pot taxi, whatever you may call it – quality, form, and function are right. For that, we at WAGNER give you our word.