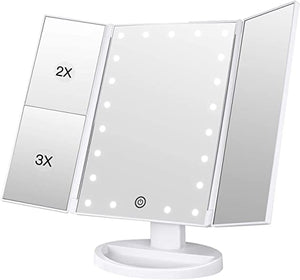 Dimmable LED Lighting For Applying Makeup: Integrated LED lights with 21 LED bulbs and brightness control switch to provide proper lighting for getting flawless makeup look, even in poorly lit room.

2X/3X Magnifying, Great For Eye Makeup And Precise Makeup Needs: Get the clear views and see more details with the magnifying mirror to make the perfect eye looks and cover the small blemishes.

Travel Friendly And Easy Storage: The Tri-fold design prevents the mirror from getting exposed outside and being smashed easily. It also keeps the mirror surface clean.

Convenient Collecting Tray For Small Ornaments: A practical little space to put your necklace, earring or some cosmetics.

Adjustable Mirror Angle, Suit Your Needs: The vanity mirror stands on your countertop and can be freely adjusted up and down to find the perfect viewing angle.