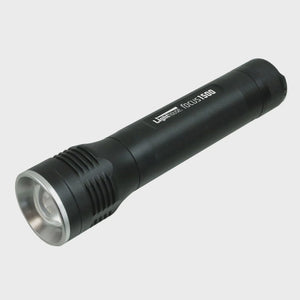 This torch features a Philips Luxeon M high performance LED with a powerful 1500 lumen output and three operating modes of High, Low & Strobe. The focus control allows the light to be adjusted from a tight spot beam to a flood light to suit the job in hand. This torch has an impressive run time of up to ten hours.
The anodised aluminium body is lightweight and durable and the torch is water and dust proof to IP54 for use in all weather conditions.
Producing a super bright 1500 lumen beam with a range of up to 220 metres this torch is perfect for searching and security work or any application were a long beam covering a wide area is required.
This torch will run on rows of either 9, 6 or 3 AA batteries. Please be aware that running with less than 9 batteries will have an effect on both lumen output and run times.
Supplied complete with nine AA cell alkaline batteries.