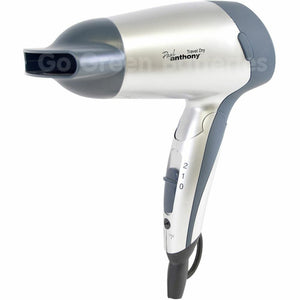 COMPACT TRAVEL SIZE WITH DUAL VOLTAGE: The travel hair dryer features a folding handle, making it very compact and easy to store in your suitcase, weekend bag or drawer. With dual voltage settings, you can easily switch between 240v for countries that use 220v-240v such as Europe, Middle East, Asia and Africa and 110v for countries that use 110v-120v such as USA, making this the perfect travel companion.

2 SPEED SETTINGS AND 2 HEAT SETTINGS: This hairdryer delivers max 1200w output with 2 fan speed settings and 2 airflow heat settings.

CONCENTRATOR NOZZLE ATTACHMENT: The removable concentrator nozzle attachment helps to focus the hot air to a more concentrated target of hair.

SMALL BUT POWERFUL: The Paul Anthony "Travel Dry" 1200w Travel Hair Dryer can be used to style all different types of hair, from short and curly to long and sculptured, with 2 speed settings to choose from to best suit your hair type.

SAFE AND PRACTICAL: This hair dryer is fitted with a special thermal cut-out safety device to protect you from the device over heating. This device features a folding handle function, meaning it is very compact and will fold up and fit in to your weekend bag or suitcase easily, there is also a hanging loop attached, meaning it is easy to store and makes it perfect for travel all round.