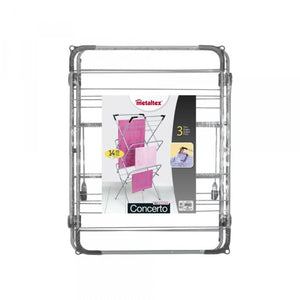 The Concerto drying rack from Metaltex is a cleverly designed drying rack with 3 floors on which you can hang clothes of all lengths to dry. 
The drying tower with 3 levels has a total drying length of 14 meters. 
You can also hang clothes hangers in the 4 upper corners for extra drying space. 
The Concerto drying rack is easy to use and can be folded compactly by means of 2 handles. 
This smart drying rack from the Tec collection by Metaltex has been treated with a silver-colored anti-static epoxy coating, which prevents the clothes from becoming electrostatic. 
Store indoors after use. 
Dimensions of the rack open: 63 cm x 47 cm x 137 cm, dimensions of the rack closed: 63 cm x 76.5 cm x 5.5 cm. 
Looking for a large drying rack for your laundry?