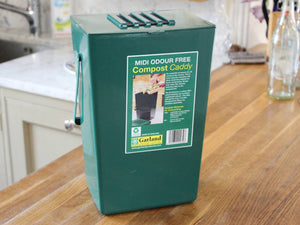 With home compasting becoming more popular, we offer a range of Odour Free Compost Caddies, ideal for storing compostable kitchen waste, in sizes ranging from 5 to 30 litres.
This 9ltr model is ideally sized for most families and it will store easily inside most kitchen units.
The activated carbon filter, housed in the lid, contains any unpleasant odours.
The filter lasts 3 to 4 months and refill packs are available separately.
Size Check: 21.5cm (8.5") Long 16.5cm (6.5") Wide 33cm (13") High