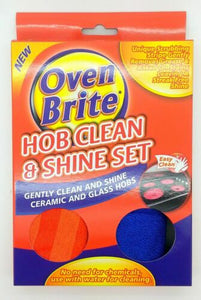 Make cleaning your oven hobs an effortless task with this Oven Brite Hob Clean & Shine Set. It's specially formulated to eliminate grease and baked-on stains, leaving a streak-free finish.
Fantastic at removing grease and grime to leave your hobs sparkling like new again. Quickly eliminates unwanted residue without the need for chemicals- use with water only.
Gently clean and shine ceramic and glass hobs. The chemical-free solution to cleaner glass and ceramic oven hobs.
Oven Brite Hob Clean & Shine Set
Streak-free finish
Powerful performance
Use with water only
Chemical-free