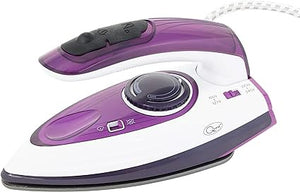 Collapsible ergonomic Handle - Dual Voltage - Adjustable Temperature -50ml water tank - Lightweight and portable - Non Stick soleplate - Steam Button -Dry Iron/Steam / Burst of steam
TRAVEL STEAM IRON – This 1000W compact travel iron is lightweight & potable, and features a fully collapsible handle that makes it perfect to fit into bags & suitcases for business trips and holidays.
WORKS ALL OVER THE WORLD – The travel iron measures 19cm x 21cm (H x W), and features a dual voltage functionality that easily allows you to switch between 110V to 120V, or 220V to 240V, ensuring it will work wherever you are in the world.
NON-STICK SOLEPLATE – The mini-iron features a non-stick soleplate that delivers a smooth ironing experience, and houses a 50ml water tank that will deliver up to 0.8g of steam with every push of the steam button.
ADJUSTABLE TEMPERATURE – The temperature dial that sits on the body of the iron will allow you to set the perfect temperature in order to work out the creases of whatever clothing type you are ironing.
QUEST APPLIANCES - Quest are the leading manufacturer of cooking & cleaning appliances ideal for giving you a helping hand in the home. From teppanyaki grills & waffle makers, to kettles, irons, & steam cleaners, visit the Quest store on Amazon to view the whole range.