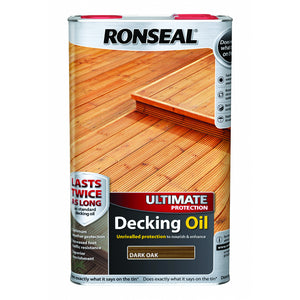 Ronseal Ultimate Protection Decking Oil colours and waterproofs your deck providing a longer lasting, slip resistant finish. Using advanced technology it penetrates deeper into the wood for increased adhesion and hardness build up to provide double the foot traffic protection and weather resistance versus standard decking stains.
Water based Alkyd/Acrylic technology colours and waterproofs your deck in one easy step excellent resistance against the effects of weathering and foot traffic. It is rainproof in 90 minutes.
Preparation:
Untreated, weathered decking: For untreated grey and weathered wood use Ronseal Decking Restorer to restore the deck's natural colour and provide a sound base for application which ensures the stain penetrates effectively.
Previously finished decking: Use Ronseal Decking Cleaner & Reviver to remove any dust, grease, oil, mildew, algae and other contaminants. Remove any loose, flaking or peeling coatings. To avoid patchiness, and if using a contrasting colour, make sure you remove all previous finishes using Ronseal Decking Stripper. Ensure cut ends are adequately protected using Ronseal Decking End Grain Preserver.
New wood: New decking should be allowed to weather naturally (usually 6 months). This will make sure any pre-treatment has eroded allowing the stain to penetrate and adhere to the deck.
Clean the deck with Ronseal Decking Cleaner & Reviver using a scrubbing brush to open the pores of the wood and remove any contamination from the manufacture of the timber. Rinse thoroughly with clean water ideally using a pressure washer. Allow to dry fully before overcoating. Test effectiveness of the cleaning by splashing the deck with water. If beading occurs, re-clean. Retest before applying any stain. The shade label indicates approximate colour only.
We recommend you test a small area to determine the final colour which may be influenced by the texture, grain, colour, porosity, type of wood and previous treatment.