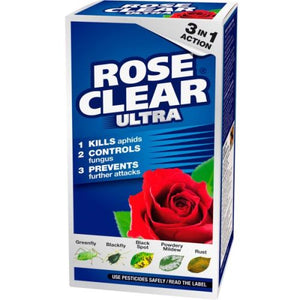 Systemic Insecticide And Fungicide
Ideal For Roses, Other Flowering And Ornamental Plants
An economical concentrate that combines a systemic insecticide with a systemic fungicide to control pests and diseases on roses and other flowering and ornamental plants
Simply dilute in water and spray onto plants to kills pests such as greenfly and blackfly within 24 hours
Fights existing infections of powdery mildew, rose blackspot and rust and protects new growth from further infestation
RoseClear® Ultra can be used on roses, ornamental plants and flowering plants.
RoseClear® Ultra has been shown to be safe to many species and varieties of plants. However, it is always advisable to test a sample of plants, by treating them and leaving for a few weeks, before treating a large valuable collection.