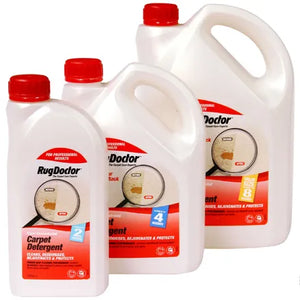 Give your carpets a new lease of life with Rug Doctor Carpet Detergent, designed to work with the Rug Doctor Carpet cleaning machines, it gives you effective cleaning results every time.
The Rug Doctor Carpet Detergent features a concentrated formula and SpotBlok anti-stain, making it cost effective while giving you results that will last longer, protecting your carpets from spills even after you have finished deep cleaning your carpet.
Using the Rug Doctor Carpet Detergent with the Rug Doctor Cleaning Machine, your carpet will be deeply cleaned removing crumbs from food, dead skin cells, dust mite droppings and allergens, as opposed to just cleaning the surface like traditional vacuums.
Leave your carpets looking refreshed using the Rug Doctor Carpet Detergent, for best results you should treat heavily soiled areas with Rug Doctort High Traffic Foot Cleaner spray prior to using this carpet detergent - your carpets will thank you for it and will look clean and as good as new. 
Cleaning Coverage of the Rug Doctor Carpet Detergent:
1 litre – cleans approximately 400sqft/38m² (2 rooms)

2 litre – cleans approximately 800sq ft/75m² (4 rooms)

4 litre – cleans approximately 1600sq ft/150m² (8 rooms)