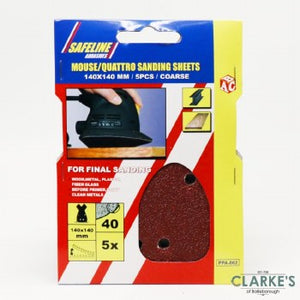 Mouse Sander hook & loop backing sanding pad adheres tightly to the pad, reducing snagging and tearing. It wears evenly for maximum cut and long life. The hook & loop backing makes pad changes quick and easy with no mechanical fasteners or tools. The aluminium oxide abrasives grain offers fast cutting and is one of the most widely used abrasives among both DIY and professionals.
- Suitable for: Wood, metal, plastic, fibre glass.
DISC SIZE: 140 mm
GRIT: 40 Coarse
PACK SIZE: 5 sanding pads.