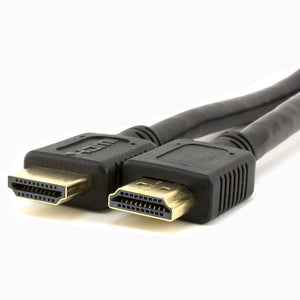 High Speed HDMI Cable with Ethernet is manufactured by keeping the highest standards of manufacturing in mind and gives you the guarantee of long lasting use. This high Speed HDMI Cable with Ethernet supports a resolution well beyond 1080p. This will enable you to view your favorite movies in the new-age 4k resolution. 4K is equal to 3840x2160 pixels and experts state it to be the future of video technology. As HDMI standards relay uncompressed data, you get a 24 bit, deep color display. This ensures that all your images are rich to the smallest detail.
1080p Resolution - High Speed HDMI with Ethernet offers an incredible amount of bandwidth that supports 1080p Resolutions and beyond
4K (UHD) - Clocking in at 3840 x 2160 pixels, 4K (Ultra High Definition) is the future of home theater HDTVs. At four times the resolution as 1080p, 4K will bring your digital media to life in a whole new way.