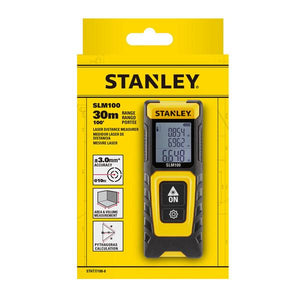 Included: 2X AAA Batteries - 1X Lanyard Cord
Range: from 20cm to 30m.
Typical accuracy ± 3mm at 10m.
Functions: distance, continuous measurement, area and volume calculation, addition and subtraction, Pythagoras.
Black LCD screen with white lettering, with three lines, large, allows better visibility even in strong lighting conditions.
Memory: last three measurements.
Auto-off after 120 seconds.
Two measurement points: base and front.
Power supply: 2 AAA batteries.
Ease of use: two-button operation, the ON button allows you to take measurements, the second button allows you to change the functions.
Rubber coating, IP40 protection index.
In counter display.