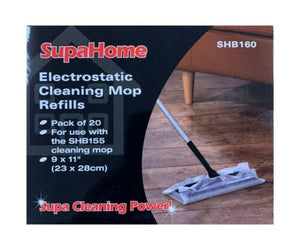 The Electrostatic dust absorbing cleaning cloth is suitable for removing dust away from tables and chairs, metal, glasswares, household appliances and much more. Due to it's static electricity it is more effective in getting if of dust than any other cleaning cloth. 
+ Attach cloth to mop head or use separately for hand dusting u
se electrostatic cloth on TV's, blinds, plants, furniture, car dashboards and any place dust, dirt and hair collect 
+ Safe on wood, ceramics, vinyl electronics and many hard surfaces 
+ Use cloths dry. Do not add sprays or liquids 
+ After using, simply throw the cloth and all that dirt away 
Pack of 10 wipes included in package.