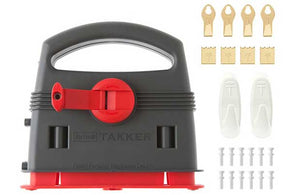 Hang your Pictures and much more in seconds. No More Powered Drills, Hammers or Nails. Suitable for use on Plaster, Plasterboard, Brick, Wood and even Ceramic Tiles. Hangs up to 12kg/27lb.
Can be used indoors and outdoors. Ideal for hanging pictures, canvas prints, mirrors, kitchen utensils and much more in the home, garden or workplace.
34 piece .
Size H30, W21.5, D4.5cm. Weight 0.5kg. Accessories included: 24 hardwall takks and 4 picture hooks. 4 canvas hangers, 2 multi purpose hooks.