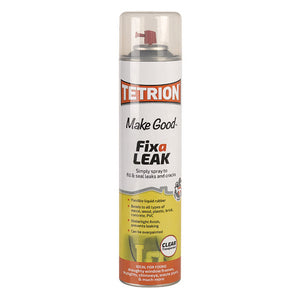 Rubberised coating which fills and seals fine leaks and cracks, it can also protect items and products from moisture and weathering.
Tetrion Fix a Leak provides a tough, water tight yet flexible seal which can stop leaks on certain substrates. this seal withstands movements, wide temperature changes and bright sunlight meaning it is ideal to fix leaking pipes both indoors and out.
The clear-drying and over-paintable finish ensures all fixed leaks are inconspicuous.