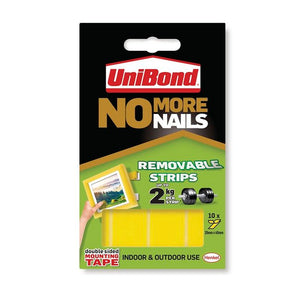 Unibond No More Nails Roll is a strong, double sided, instant grab mounting tape which eliminates the need for nails and screws in many DIY and repair jobs.
Safe and easy-to-use, the tape sticks to most building materials.
The Unibond 781739 holds up to 2Kg per strip and is suitable for both interior and exterior use. It can withstand high temperatures up to 95° C for short periods of time, and is ideal for mounting hooks, signs, numbers, car number plates, pictures, cable trunking, bathroom and car accessories.
The tape can be used for bonding wood, ceramic tiles, metal, brick, stone, plaster and most plastics.
Size: 10 Strips (20 mm x 40 mm).
Removable.