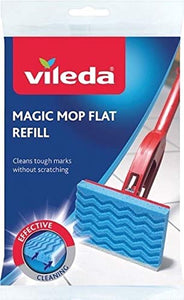 The Vileda Magic Mop Flat Refill: a fast cleaning mop, with the added benefit of helping your floors dry quicker, thanks to its effective absorbant head, and fast wringing action.
The Magic Mop Flat Refill is the ideal choice to keep your flat mop in tip top condition.
3D Grooved Head: cleans floors for effectively.
Clip Fitting: changing mop heads could not be simpler.
Push Pull Wringer: push down on the mop head to release excessive water.