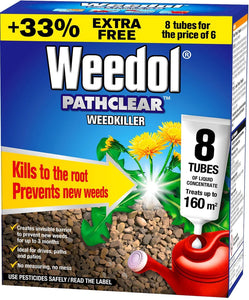 The easy way to weed! Weedol Pathclear Weedkiller tubes contain a liquid concentrated weedkiller that is convenient and easy to use.
The pre-measured tubes of residual weedkiller are for application through a watering can or pressure sprayer to gravel paths, drives and waste ground. Simply snap off the top, mix and spray. That?s all there is to it!
The advanced formula kills the leaves and kills the roots of existing weeds so they won?t come back, while preventing new weed seedlings from emerging for up to 3 months!